Share:
Bayou DeSiard Country Club
- Louisiana's Best Country Club Value
By David Theoret
Bayou DeSiard Country Club is a special club in Monroe, LA. In addition to having a Perry Maxwell-designed golf course, Bayou DeSiard is home to the W.E. Cole Cotton States Amateur, one of the best practice facilities in the state, and numerous dining options.

Bayou DeSiard Country Club was incorporated in 1945 and on Labor Day 1948, the club opened as a 9-hole golf course. Bayou DeSiard was built on land donated by the Biedenharn family and was developed by charter members who donated their time, equipment, and materials for construction at cost. A few years later, additional land was purchased and the second nine was built.

The 18-hole championship golf course designed by Perry Maxwell opened in 1948, Ron Prichard did a restoration in 2009 and returned the course to Mr. Maxwell's challenging and enjoyable layout that you see today. Bayou DeSiard Country Club is repeatedly ranked one of the top courses in the South. From the Championship tees, the course plays 7,234 yards with a course rating of 74.5 and a slope of 131. In all, there are 6 tee boxes with yardages as short as 4,340 as well as two "blended" tees (Black/Blue and Blue/Gold) for a total of 7 yardages. Odds are there's one to suit your game.

The golf course at Bayou DeSiard Country Club features tree-lined fairways, strategically placed bunkers, and water on 10 holes. Lush fairways planted with 419 Bermuda grass give way to beautiful mini Verdi greens. For the most part, fairways are open and receptive off the tee and there is a lot of undulation in the greens. The first three holes feature water left of the green, so if hitting it left is part of your game, get it out of your system on the practice range. The course is easy to walk Director of Golf Nick Ellison estimates that about 85% of their winter rounds are golfers walking the course.

Speaking of practice facilities, golf course architect Nathan Crace was hired to rejuvenate Bayou DeSiard's. The club had invested several years ago in three practice greens that were known as the "Triangle," and could be used for target shots up to 170 yards, but what was missing was a chipping green. One of the greens was converted to a 6,000 sq ft chipping as part of the new short game complex. There is also a full-length driving range where you can hit every club in your bag as well as a practice putting green. It's one of the biggest selling points of the club.

Bayou DeSiard Country Club has several memorable holes, one of which is the par 5, 6th. The hole plays 495 yards from the White Tees and will require some strategic play if you want to be successful. There's water down the right side that meanders out into the fairway farther than you think and you'll find that the closer you get to the green, you're going to have to carry it over the water to get on. The green is long and narrow with lots of undulation and is protected on the right with water and on the left with sand. Oh, and there's a railway track that runs down the left side. If you find yourself on the tracks, best to use your partner's club to hit out! It's just a fun golf hole!

To me, Number 10 is the most interesting hole on the golf course. If I were naming holes it would be called "Redheaded Stepchild," with no offense to my auburn-haired friends. It's a hole that just doesn't seem to fit in with the rest of the course. The hole plays 407 yards and is a huge dogleg left that just keeps turning left. Trees line the left side and there are several pot bunkers at the corner that need to be carried off the tee, otherwise, the trees will block you out. Depending on the tees you play, your best bet is to hit a club that will put you over the traps and leave yourself a short pitch shot into a large green that slopes left to right.

Number 15 is a short, fun, little par 3 that plays 116 yards from the Gold tees. According to the scorecard, it's the easiest hole on the course. It's all carry over water into an odd-shaped green that is a lot wider than it is deep. A shot from the bunker behind the green at a front pin placement can be treacherous. A front left pin placement can be tricky as well as the green slopes down towards the water. Back right is no fun either as the landing area near the pin is tiny. It may be the shortest hole on the course but par is a good score here!

Bayou DeSiard's easiest hole is followed by the inward nine's toughest, the par 5 16th. From the Blue Tees, the hole plays 524 yards. From a distance, the bunkers that appear to be guarding the green are about 100 yards out so play your layup shot accordingly. There is one greenside bunker on the right, three on the left, and railroad tracks that guard the right side.

In addition to one of the area's best golf facilities, Bayou DeSiard has an impressive tennis facility with 7 lighted courts - 2 hydro courts and 5 hard courts. The hydro court system is the most advanced clay court watering system available. Several of the courts include lines for pickleball, the nation's fastest-growing sport among active adults. The onsite tennis shop can set you up with new equipment or outfit your current gear with new strings and grips. The onsite tennis pro can also assist with making you a better player.

Great golf and tennis aren't the only things that Bayou DeSiard Country Club is known for. They have been pampering members with an incredible variety of dining options since the 1940s. Members have access to 10 different rooms making Bayou DeSiard Country Club the perfect venue for whatever your taste-buds crave. Events are a large part of DeSiard's social calendar and they offer a bevy of catering options and a stunning array of menu items for all occasions. One of their many dining areas is the perfect spot for your weddings, private dinner parties, or business events. Or just unwind after a great round of golf at the 19th hole or evening drinks at the Founders' Bar.


This is just an overview of what Bayou DeSiard has to offer its members. If you ever get the chance to visit the club and play the course, don't pass up the opportunity. Director of Golf Nick Ellison and his staff have created a club that is family friendly and affordable. Give them a call at (318) 323-5136 or visit them online at www.bayoudesiardcc.com.

Article Tags: Bayou DeSiard Country Club, Golfing in LA, Louisana golf courses, Stay and play golf in Louisiana, Perry Maxwell, Golf in Louisiana
Revised: 01/06/2021 - Article Viewed 9,410 Times
About: David Theoret
---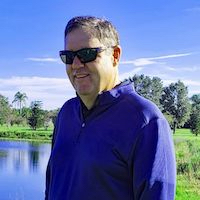 David Theoret has been in the golf and golf travel industry for over 10 years, primarily selling online advertising. For the past seven years, he has also been a golf writer, reviewing golf courses, resorts, destinations, equipment, golf apparel, and training aids - the latter of which never seems to help. David's articles and reviews have been posted on many golf travel and equipment websites.

Growing up in Southwestern Ontario, Canada, it was naturally assumed he would play hockey. Beginning at the age of 3 and continuing into his late 30's, he did just that. However, after one too many pucks to the head, he realized that golf was a lot easier on the body (whoever said hockey players were slow) and took the game up.

After moving to Florida and accepting a position with TravelGolf Media (now part of GolfNow) his love for the game grew exponentially. Most Saturdays you will find him on a course somewhere in Florida or on the practice range reinforcing his bad habits. David plays to a 10 handicap - unless there is money involved in which case it goes considerably higher. He currently resides in Lakeland, FL with his wife Belinda and their two "kids", Madyson and Molly.

---
More Articles by David Theoret