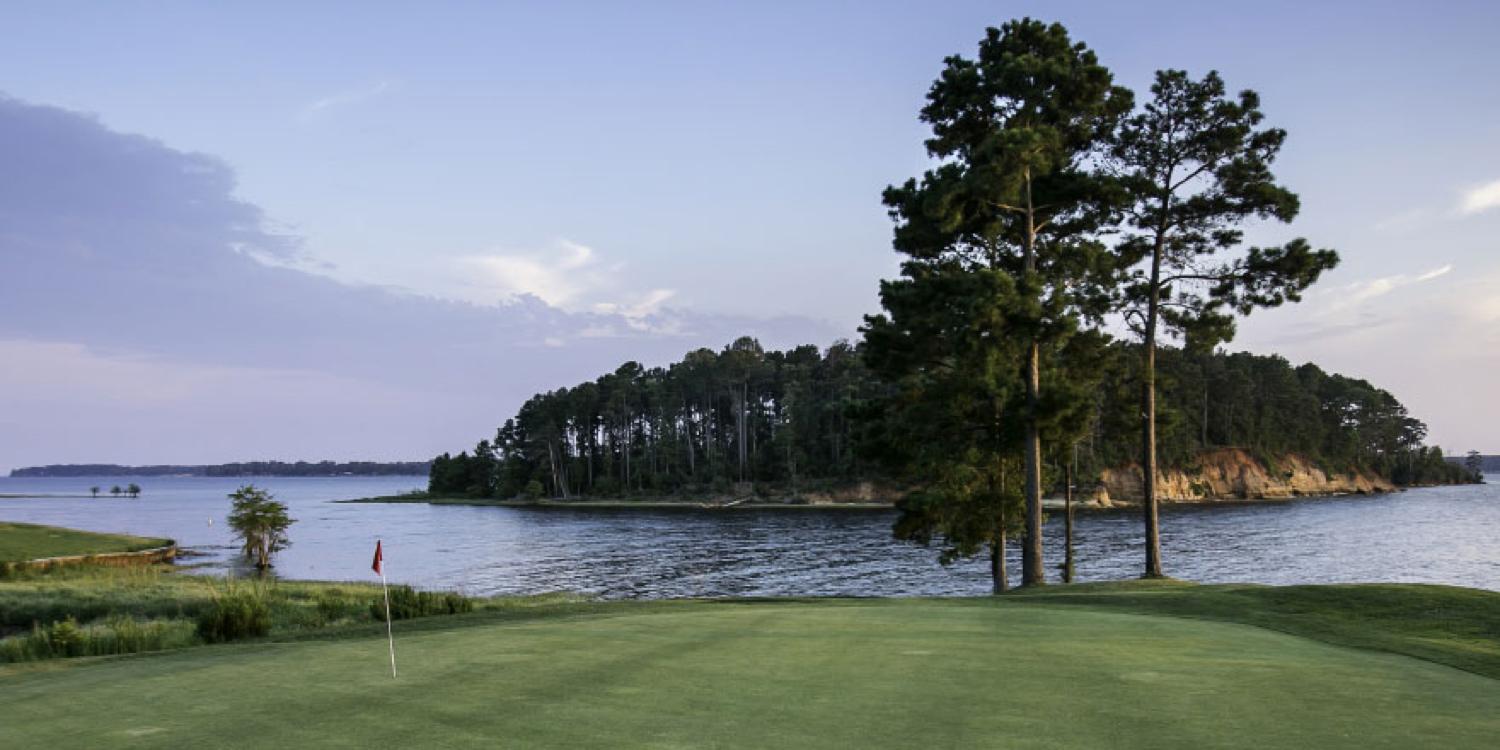 Louisiana's Audubon Golf Trail
By Ed Stone
Most people have a mindset about Louisiana as a place for great cuisine, Cajun culture, New Orleans and Southern hospitality. The Audubon Golf Trail is fast becoming another main attraction...especially for golfers.

Recently we had the opportunity to play six of the 18 courses on the Audubon Golf Trail in Southern Louisiana. They are all well qualified to carry the name of John J. Audubon who traveled the State to capture in his paintings the unique birds of the area. Each golf course must meet certain rigorous requirements to be a part of this collection.

Our six-day golfing trek began with The Golf Club at Audubon Park located in the Garden District of New Orleans. This 18-hole, par 62 "executive course" is a challenge with over 50 sand traps and five strategically placed lakes. Don't be fooled by the fact that it has twelve par 3s, four par 4s and two par 5s...it is not a walk in the park. The numbers one & two handicap holes on the course are #17 & #9. Seventeen is a par 3 with a 212 yard forced water carry to the green. Number nine is a par 5 stretching 462 yards from the tips. This is also the only golf course in America that can be reached via street car and is the oldest golf course in Louisiana being built as a 6-hole course in 1898. The course at The Golf Club at Audubon Park stretches some 4,220-yards in a setting of hundred year-old live oak trees and a view of the Loyola University's iconic chapel tower from several locations. In 2001, the course was updated and given its current design by Dennis Griffiths of Braselton, Georgia.

We should mention that the clubhouse offers a beautiful dining room and porch for those wishing to grab a sandwich or full meal before or after a round of golf...or, just to enjoy the view and setting.

Next door is the famous Audubon Zoo with a variety of animals and habitats that will provide enjoyment for the entire family. And, if you are staying downtown, be sure and check out the Aquarium of the Americas, a not to be missed adventure and well worth the time to visit. Of course, the French Quarter is as much a part of Louisiana as beignets, jambalaya and etouffee. Our beautiful, comfortable and convenient accommodations were at one of New Orleans' Hotel Collection the Bourbon Orleans Hotel. We selected Dickie Brennan's Tableau for a most delicious and nearby dining.

A 15 minute drive from the French Quarter took us to the TPC Louisiana, home to the PGA's Zurich Classic of New Orleans golf tournament played in early May of each year. This course was opened in 2004 and built by the State of Louisiana now owned and operated by the PGA Tour. It is a Pete Dye designed course with consulting from Tour players Steve Elkington and New Orleans native, Kelly Gibson. Accolades from Golf Digest and GolfWeek range from "#4 best upscale public course" to "Best Courses You Can Play."

TPC Louisiana is open for play to the public. Many of the tee times are very reasonable for a course of this caliber ranging from $200 to $55. We found it to be quite friendly for a PGA Tour layout. As in pretty much all south Louisiana courses, this one is flat with lots of water, plus cypress, pine and oak trees. The three elements Dye designed into the course for difficulty are distance, water and sand. The roughs are generally cut short and OB is not often. The fairways in this part of the U.S. are planted in Bermuda and greens are Tif-Eagle Bermuda. Both are very nice hitting and putting surfaces.

The two hardest holes per the handicap are numbers 6 & 12. Six is a par 4 with 440 yards from the blue tees. The 12th hole is also a par 4 with yardage of 450 from the blues. Teeing off #6, you are faced with a lake stretching from the tee to the green forcing you to keep the tee shot right of the lake, you need to hit at least a 200-yard drive to allow for an under 150-yard approach to the green with water on the right and long sand bunker on the left. On #12, two large sand bunkers, one on left and one on right create almost a double dog-leg left and then right for this hole. No water, but lots of sand! Oh, by the way, we did see several alligators on this course.

Traveling about 30 minutes north of Baton Rouge, we discovered the quaint and historic town of St. Francisville. Before having a fine meal at The Francis of fried catfish and oysters, we took a tour of this small community with higher elevations (115 ft above sea level) than we had seen for the last two days.

History abounds in this town of some 1,700. This area was called West Florida when the American Revolutionary War ended and Great Britain handed it over to Spain in 1783, as part of the Treaty of Paris. St. Francisville served as capital of the Republic of West Florida in 1810 before being annexed into the Territory of Orleans, a possession of the USA. Today, this region is called the Florida Parishes.

Every June a three-day re-enactment commemoration called "The Day the War Stopped" is held in St. Francisville to honor a Confederate Army officer William Walter Leake who arranged for the burial of a fellow Masonic brother and Union Navy officer John E. Hart, who had died aboard his ship in 1863 while taking part in the Union blockade of the Mississippi River. This is just one of the many historical events that took place in this small town. Just a few miles out of town is Rosedown Plantation built in 1833, a "must visit" antebellum plantation and a National Historic Landmark.

About 10 miles out of St. Francisville we stayed at The Lodge at the Bluffs, a two story all suites accommodations next to The Bluffs on Thompson Creek Golf Course. Playing this Arnold Palmer designed layout was enjoyable with its ever-changing elevations and noticing "the touches" of "The King." The Bluffs stretches to some 4,630 from the forward tees to 6,997 from the tips. There is lots of water and quite a bit of sand on the course. We noticed that the handicaps were even numbers on the front and odd numbers on the back. That told us the course had been switched at some point. The top two handicap holes were numbers 10 and 4. Hole #10 is a par 4 playing 434 yards from the back and #4 plays 207 yards as a par 3. What makes these two difficult is they are both elevated some 50 feet with sand trap to the left of the green and a tee shot over a small pond on #4. The number 1 handicap is hole #10, also an elevated green with sand traps on both sides of the green for the approach. The signature hole is #17, par 3 with an elevated tee looking down on the green with a lake on the right creating distances of 231 from the tips and 110 forward tees.

The Bluff opened to the public in 1988 and Golf Magazine gave its stamp of approval in 2016-2017 by voting it the No. 1 Best Golf Course You Can Play in Louisiana. It should be noted that naturalist/artist John J. Audubon made this part of West Feliciana Parish his home in the 1820s.
A quick stop at the Bayou Rum Distillery in Lacassine.

Enroute to Lake Charles, we made a quick stop at the Bayou Rum Distillery in Lacassine, about 15 minutes from our overnight accommodations at L'Auberge Casino Resort. The rum distillery is new to the area having opened in 2011. Certainly worth a visit should time permit.
L'Auberge Casino Resort is first class and offers a great place to stay, play golf, visit the casino, spa and dine.

The L'Auberge Casino Resort is first class and offers a great place to stay, play golf, visit the casino, spa and dine. This AAA Four Diamond facility is located adjacent to two of Lake Charles six public golf courses. Contraband Bayou Golf Club is just across the street and the Country Club at The Golden Nugget is next door. We opted to play Gray Plantation Golf Course just a few miles away since it is on the Audubon Golf Trail.

This semi-private course opened in 1999 and offers six sets of tees. Thus, the player can select a yardage from 4,814 to 7,191...whatever fits your game! We counted some 12 holes where water can come into play, but the purported 94 bunkers can catch your errant shots. The course was designed by Rocky Roquemore who carries credits of designing three of Walt Disney World's golf layouts. His design of the four par 3s are exemplary layouts and different in many respects with two being island greens. Number 13 offers a serpentine bridge from tee to green. He was also a protégé of Joe Lee the designer of our home course Stonehenge at Fairfield Glade in Tennessee.
Golf Digest positioned Gray Plantation in the top 100 of America's greatest public courses for 2005/2006 and 2007/2008.

Golf Digest positioned Gray Plantation in the top 100 of America's greatest public courses for 2005/2006 and again for 2007/2008. Golf Magazine rated the course in September of 2004 as the "top three among 50 best U.S. courses for $50 or less."

Gray Plantation's clubhouse is a beautiful Louisiana raised plantation structure with spacious dining and other rooms typical of an upscale facility. The setting overlooks the marshlands and provides an aura to relaxing views. (View a short video by Jonathan Jester, Head Golf Pro at Gray Plantation.) Read a review on Gray Plantation by Dave Daubert CLICK HERE.

Heading East on I-10 for some 75 miles, we overnighted at the Mouton Plantation Bed & Breakfast in Lafayette.
The Plantation Mouton is located in downtown Lafayette in the sterling grove historical district.

The Plantation Mouton (Bois Des Chenes), is located in downtown Lafayette in the sterling grove historical district. The home was built by Charles Mouton, the grandson of the city's founder. It is convenient to all the downtown restaurants and activities and serves an outstanding breakfast.

We dined at the Blue Dog Café, famous for George Rodrigue's paintings that include a blue dog setting for his beautiful artwork apart from all others. Getting to meet and chat with his son Jacques was a real treat. However, the Cajun menu offered is outstanding and can be highly recommended to any visitor wanting to experience this area's cuisine and culture. Fear not...the food is not spicy. (Click here for our interview with Jacques Rodrique.)

Our fifth course on the Audubon Golf Trail expedition was the Wetlands Golf Course on the outskirts of Lafayette. This could be one of the best maintained city courses you can play. The TifDwarf greens were in excellent shape along with the Bermuda fairways. The staff and clubhouse were first-class...friendly folks and spacious facilities.
Wetlands Golf Course on the outskirts of Lafayette could be one of the best maintained city courses you can play.

Five sets of tees allow you to select what best fits your game. Tips will give you 7,393 yards while the forward boxes offer 5,025. The five lakes on the course are strategically placed and yet allow for laying up or going for the greens...your choice. Holes number 3 and 14 are the two toughest. With #3 being a par 4 and yardage from the tips at 463, you'll encounter water on the left of the tee box and two large bunkers guarding the green, meaning a high pitch shot to the pin. Number 14 is a par 5 with water down the right side of the 570 yard fairway and two sand traps on left and right of the green.

Wetlands Golf Course opened in 2006 and was designed by Frank Burandt. A few of his credits are Chateau Golf & Country Club, Kenner, LA, Jake Gaither Municipal Golf Course, Tallahassee, FL and Stoneridge Golf Course, Blanchard, ID. When visiting Lafayette, this is a beautiful course and the rates are very friendly.
The Tabasco Museum is worth a visit.

Avery Island is famous for being the home of Louisiana's hottest product. Tabasco sauce was first produced in 1868 by Edmund McIlhenny, a Maryland-born former banker who moved to Louisiana around 1840. A tour of seeing the product made along with a visit to their store is well worth a stop.

Traveling another 70 miles we arrived in Morgan City, our southernmost course on the Audubon Golf Trail. This community of some 12,000 has two smaller towns to its west called Bayou Vista and Patterson. We enjoyed a delightful houseboat cruise up the Atchafalaya River with a few locals to experience a beautiful sunset and a delicious meal of jambalaya, catfish and other Cajun delicacies.

Last but not least was our sixth golf course, The Atchafalaya at Idlewild only a few miles from Morgan City in Patterson. Certainly one of our favorites.

To give you a feel for the area, we need to give you a few fact about the Atchafalaya Basin. It is the largest wetland and swamp in the United States covering some 260,000 acres in this portion of Louisiana. The golf course is built on the edge of this basin and presents a unique golfing experience. The wildlife found and seen from the golf course is an added attraction to your game.

Atchafalaya at Idlewild has five sets of tees with tips stretching 7,533 yards and the forward tees at 3,893. The two most difficult holes are both par 5s, holes #6 & #16.

In 2006, Atchafalaya at Idlewild was unveiled to the public. The course was designed by Robert Von Hagge, Michael Smelek, and Rick Baril. Their credentials include the creation of Doral, LaCosta and the TPC at Woodlands. Each of the 18 exceptional holes is named for a cultural feature within the Atchafalaya Basin where over 40 species of indigenous flora thrive.

There are five sets of tees with the tips stretching some 7,533 yards and the forward tees at 3,893. The two most difficult holes are both par 5s, holes #6 & #16. From the tips, number 6 is a long 635 yards straight ahead with water on the left most of the way to a large sand trap guarding green on the right. The second hardest hole, #16 is a 594 yarder and dog legs left some 200 yards off the tee. You have to hit at least a 250 yard tee shot to cross a lake with the hopes of getting to the green in two...most likely with a three.

The Atchafalaya at Idlewild offers large greens and is one of three courses we played that features a double green for holes #9 and #18. Architecture for the clubhouse is that of a typical Cajun house of that area and very spacious. Worth noting is the tee markers are iron casted creatures of gator, bear, eagle, owl and otter. A first for us was to see a cypress knee used as the 150 yard markers.

Covering nearly one-half of the courses on the Audubon Golf Trail is an enticement to make plans to cover the remaining twelve that will take us to places like Olde Oaks, Copper Mill, Black Bear, Santa Maria, Carter Plantation, The Island GC, Cypress Bend, Tamahka Trails, OakWing, Koasati Pines at Coushatta Casino Resort, LaTour Golf Club, Bayou Oaks South Course.

Hope to see you there...happy golf trails to you...Audubon Golf Trail!

Revised: 02/12/2021 - Article Viewed 3,646 Times
About: Ed Stone
---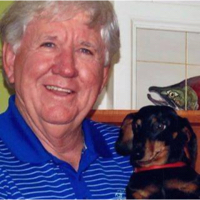 Ed has played golf on more than 350 courses in the United States and foreign countries. He loves the sport and enjoys promoting outstanding locations that helps to preserve the game.

With over 40 years of experience in the travel and hospitality industry, Stone has a wealth of knowledge and experience in tourism and attraction marketing. He has held director and vice president positions with Callaway Gardens in Pine Mountain, Georgia and Opryland USA in Nashville, Tennessee. For thirteen years he owned his own Marketing & Communications Agency, Stone & Associates in Hendersonville, Tennessee with major regional and national accounts.

Ed has major accomplishments in the areas of marketing, research and development planning, advertising, public relations, publicity, sales, television and event production. While vice president of marketing at the Opryland USA complex, he was the executive producer for several major television specials on NBC, ABC, CBS, TNN as well as working on many syndicated television specials.

He is a graduate of the University of Georgia's Henry W. Grady School of Journalism with a B.S. degree. Ed is a member of the Society of American Travel Writers (SATW) where he has been honored with Marco Polo status (the highest honored SATW can bestow upon an Associate member) and a trustee for the SATW Foundation.

He is the recipient of a coveted "SATW Bill Muster Photo Award" and the Central States Chapter of SATW has awarded Ed with over a dozen prize-winning photography awards in the areas of scenic, people and overall.

Ed is an accomplished photographer and an avid golfer. He lives in Tennessee in the summer and Florida in the winter.
---
More Articles by Ed Stone
More Related Articles