Share: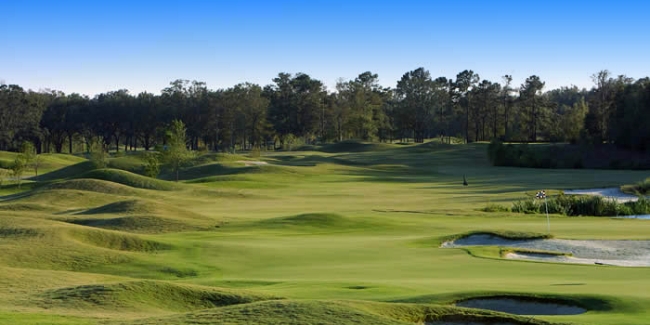 Louisiana's Audubon Golf Trail
Helping through Golf
By Bruce Leonard
Golfers who head south for the winter should consider visiting Louisiana to tee it up. Disasters come, then fade from the consciousness of the nation, but the devastation often lasts for many years. Such is the case with Hurricane Katrina.

Golfers helping to fill the coffers, and, therefore, salving some of the wounds, caused by Katrina would be sacrificing nothing by heading to Louisiana, and, more specifically, to New Orleans, since the music and cuisine are second to none and the golf along Louisiana's Audubon Golf Trail is exceptional.

The 12 member courses that stretch throughout the state deliver quality and surprising variety. So when they tee their Titleists up on one course after another, contributing to the state's economy along the way by filling their tanks, frequenting restaurants, paying for accommodations, springing for greens fees and buying the occasional Audubon Golf Trail souvenir, golfers should know that they are not only having fun-but they are also doing good.

My sampling of the Audubon Golf Trail began in Alexandria on a course that blends bayous, lakes and tree-lined fairways into an eminently worthy course, OakWing Golf Club. In a round that saw me tally a pair of eights and five sevens-partly due to the greens playing as fast as lightning and partly due to the fact that the game I play only occasionally resembles golf-I pulled off a borderline miracle on the second hole. On the 481-yard par-5, I launched a drive, hit a laser three wood to the green, then sank a 25-foot putt for an eagle. I'll exchange that kind of regal feathered friend for eights and sevens any day.

Unfortunately, the next day on a fabulous links-style course called The Wetlands, I managed to cut the number of 8s in half but bumbled to the same handful of 7s, with nary a bird of any kind landing on my scorecard. My mood was still upbeat, however, since the course is enjoyable-scenic, well-maintained and challenging without being grueling. Water comes into play on 11 holes, including the excellent finishing hole. When golfers consider the absurdly low greens fees (about $20 for seniors), they will likely only be able to criticize one thing about The Wetlands: It is closed on Tuesdays.

My favorite of the five courses I played along the Audubon Golf Trail is The Atchafalaya at Idlewild. This lush course can be a monster from the tips, playing to 7,533 yards, but thankfully I didn't play from the Gator tee boxes (though the pernicious and abundant 7s and 8s on my card would suggest that I had). A sane man would have listed his clubs on eBay then taken up origami after having to hit three consecutive sand wedges on the sixth hole, but there I was, still joyously dazzled by the five lakes and 10 native wetland areas that Atchafalaya features. And I still wanted more.

I certainly got plenty more the next day since I played 36 holes for the first time in my life. Teeing off in a morning rain at TPC Louisiana-listed in 2005 by Golf Digest as "One of America's Top Five Best New Courses"-I felt lucky to be playing such a magnificent course. Designed by golf sadist Pete Dye, with assists from Steve Elkington and Kelly Gibson, TPC Louisiana, despite its challenging intricacies, yielded four pars to me. The improvements in my game were short-lived, however, since the Golf Club in Audubon Park-established in 1898 in the heart of New Orleans and one of the most fun short courses anyone will ever play-exposed my abundant weaknesses.

The city's French Quarter, with its amazing selection of fine-dining options, its abundant music establishments and its rich history, made me forget my golfing woes and put things in context. Despite the vibrancy of the French Quarter during my visit, the people of New Orleans and the rest of Louisiana still have bigger issues to worry about than whether they blade a chip shot. Travelers who play the Audubon Golf Trail courses will help Louisiana residents to worry less.

Revised: 11/28/2011 - Article Viewed 22,892 Times
About: Bruce Leonard
---
Bruce Leonard has been a freelance writer/photographer specializing in adventure travel for two decades,
his work having been published in dozens of publications, including the Robb Report, Playboy, Travel+Leisure Golf,
National Parks and the L.A. Weekly. His first solo art show recently closed, and his writing,
photos and paintings can be found at freelanced.com/bruceleonard.
---
More Articles by Bruce Leonard
More Related Articles